Why choose steel-look internal room dividers for a property development? | The benefits of choosing Origin
Broken-plan living is rising in popularity, with many people now looking for zoned, separate spaces in the home. The rising trend of creating more separate spaces in the home may be due to the increase in homeworking, caused by the pandemic. This caused many of us to re-assess how we divide our home, with many people struggling to blur the line between work and leisure time. As a property developer, one way you can ensure these rising demands are met is through Origin's OI-30 Internal Doors.
Find out more about the benefits of steel-look internal room dividers, and what to consider when choosing them for a property development.
Click on a link to jump to that section:
Read our guide to the key benefits of using steel-look aluminium room dividers for a development.
Read our guide to bespoke steel-look room dividers, and why they are useful for property developments.
Read the benefits of working with Origin.
Benefits of steel-look room dividers
Aluminium is becoming an increasingly popular alternative to steel doors. Aluminium internal doors, sometimes known as glass partitions, are now offering all the benefits of steel internal doors, including large maximum sizes, styling, and incredible durability – all at a fraction of the cost. Aluminium internal room dividers boast a wealth of benefits, so it's easy to see why they are becoming increasingly popular among homeowners who are updating their home's interior design. Using a durable material such as aluminium will help to boost your reputation as a developer and provide you with peace of mind that the doors you provide are extremely reliable.
Are you unsure which type of door to choose? Read our guide on choosing a type of door for a development here.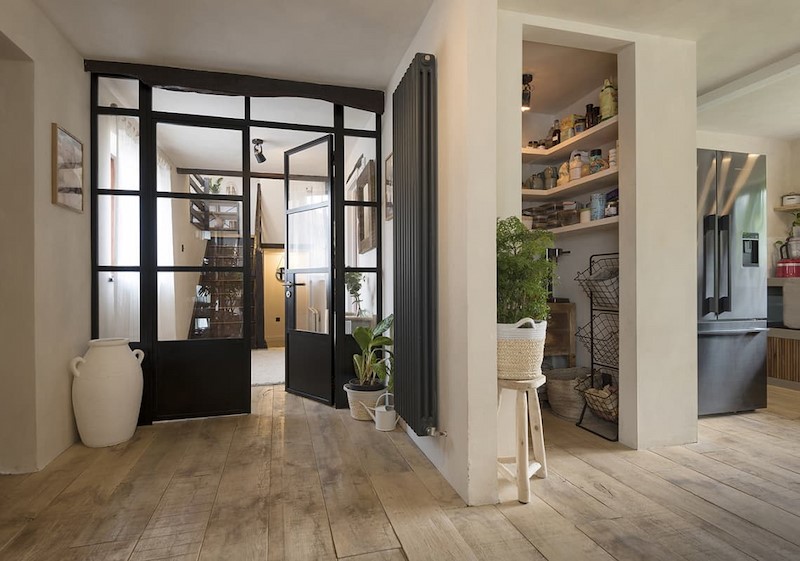 Aluminium is also a sustainable option for properties, and according to the World Built Environment Forum, the real estate industry lies at the centre growth and activity. With an increasing number of property owners being more conscious about environmentally-friendly materials – aluminium is a great choice when it comes to choosing an ideal internal door material. You can find out more about the benefits associated with supplying Origin's products for a development here.
Are you looking for a high-quality aluminium door supplier? Contact us today .
What are bespoke steel-look internal room dividers, and what are the benefits of using these for a development?
Because each property is different, and the needs of every customer will vary, choosing bespoke internal room dividers enables you to find the exact design and style you need for a property.
By choosing Origin for your steel-look internal room dividers you get a wide range of choice with regards to different options and features, including colours, panel options, and configuration options such as single door designs and French doors. You can also choose from different types of accessories, including various locks, glazing options, handle styles and colours for your internal partition door. Attention to detail is important when finding the right internal door for a specific property, so having the ability to choose things like beading options is important for finding the right fit.
Origin's OI-30 Internal Doors are now available in 150 RAL colours, allowing you find the right option – whether you're looking for white internal doors, a classic black option, or a brighter shade for your development.
You can also customise doors for a specific property development by choosing whether you want the glazing bars in your internal door set to go in a vertical or horizontal direction – ensuring the door suits the aesthetic of a property. Depending on the needs of your customer, you can also customise internal doors by choosing whether they open inwards or outwards, for added convenience. Find out more about your options in our OI-30 Internal Room Divider specification guide here.
View our range of internal room dividers here.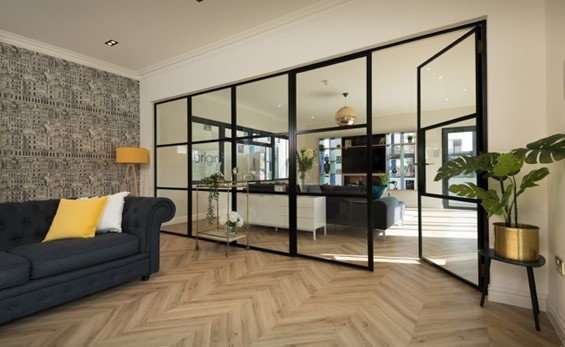 Why choose Origin as an internal door supplier?
There are a few reasons that Origin is the perfect vendor for commercial partners. Origin has a range of security accreditations, green accreditations and a warranty that ensures you get a quality door option for your development. Origin products are designed with security in mind and have undergone rigorous safety testing to ensure they exceed current building requirements. They also incorporate sophisticated insulation technology, helping developers, housebuilders and contractors meet with increasingly stringent thermal efficiency guidelines and reducing energy bills for future homeowners and landlords. In addition to supplying the best quality doors that will help to boost your reputation as a developer, Origin also offers the following support and experience:
We provide a complete turn-key service
As a British, environmentally responsible aluminium door and window supplier, we pride ourselves on supporting you from concept, through design, tender, delivery, completion and beyond. Find out more about our complete offering here.
Excellent communication and customer service
Full support from conception to completion. With dedicated teams in customer service, sales and technical, we can ensure you're supported every step of the way.
Contact us today
Origin is the UK's leading manufacturer of bespoke aluminium bi-fold, sliding, internal and front doors, and top-of-the-line windows. This puts us in the perfect position to be able to support you in your glass door and window needs.
All of our products come complete with an industry-leading guarantee, so you can rest assured that they will withstand the test of time in every project you work on. Origin also proudly holds the ISO 14001, 9001 and 45001 accreditations, demonstrating our huge commitment to quality and excellence in every aspect of our business.
Get in contact with the Origin team today to find out more about our services and prepare for your next major development project.
Get in touch and discuss your project with us.
Related content
Finding a UK commercial door supplier